Just a few random thoughts from the day:
Apple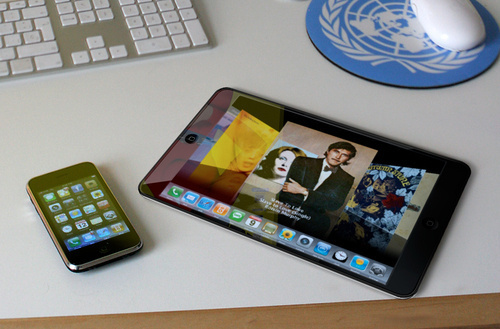 Looking forward to hearing more about the Apple Tablet (iSlate is the rumored name).  As the story goes, this will be a tablet computer that runs on a similar OS as the iPhone.  Anywhere from a 7″ to 10″ display.  This will be Apples answer to the Kindle and possible rival NetBooks.  Price range $1000.
I have a Kindle, which I really like. An Apple version with touch screen and color display that can act like a NetBook would be sweet.  $1000 price range is a little high.  Can't wait to see it!
Online Holiday Sales hit $27 Billion
ComScore reported that online holiday sales (11/1/2009 thru 12/24/2009) were up 5% to 27 billion.  Tuesday, December 15 was the busiest day of the online season, with $913 million in sales.  Interesting stuff, below is the sales by week YoY for the last 6 years: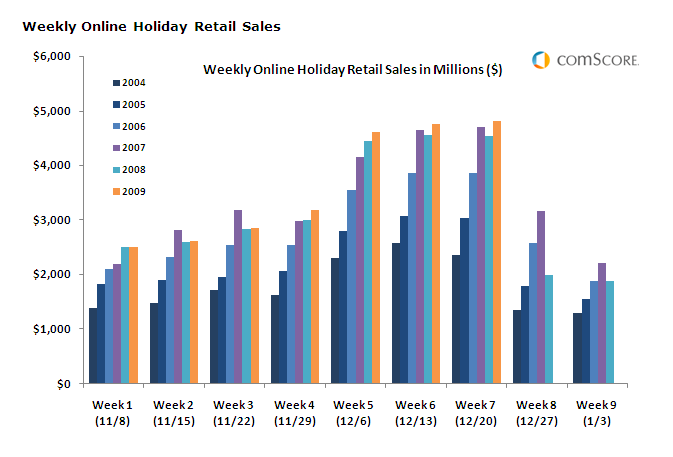 HubSpot
Attended a great webinar by HubSpot today on how business can use Facebook.  Here is a really cool tool that you can use to see your ranking on Facebook, Twitter and also your web site.  Give it a try!
eMarketer
In the category of "Come on now", eMarketer today talked about how companies are worried about their brand reputation on social networking sites.  I get that.  Very important for companies to understand how customers are shaping their brand.  Now for the part that makes me go "Come on now":
So, 344 companies answered the questions "How does your company minimize negative comments" about their brand on social media.  47% – Directly engaged with publisher/blogger to rectify issue or address negative experience.  That is GREAT!!!  Listen and engage your customer.
What is the world are the 14% of the respondence thinking that tried to get the negative content removed.  You have to be kidding me.  Are you stupid or what.  All that does is create a fire storm.  Worst – 30% do nothing – that's right nothing.  Don't you care what your customers think about your brand??
Oh my, my.